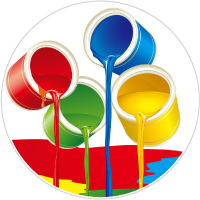 IMAGITINT

Machine Colorants
Product Description:
IMAGITINT Machine Colorants are Universal Type and are designed to have a broad compatibility with water based emulsion paints and solvent-based decorative alkyd enamel paints.
IMAGITINT Machine Colorants are specifically formulated for the use in volumetric dispensing machines and for volumetric in-plant tinting. IMAGITINT Machine Colorants are suited for accurate and easy dispensing via automated and manual dispensing machines.read more...

For TDS & MSDS of individual color (product) please email us at: sales@imagineacolor.com
IMAGIFINE

Pigment Pastes
Product Description:
IMAGIFINE pigment pastes are high strength; pourable pigment dispersions, specifically formulated for in-plant tinting of emulsion and water-based or aqueous paints & aqueous inks.
IMAGIFINE pigment pastes are cost economic alternatives to commonly used, high concentration aqueous dispersions containing high quality pigments in respect to light fastness, temperature and chemical resistance.read more...

For TDS & MSDS of individual color (product) please email us at: sales@imagineacolor.com